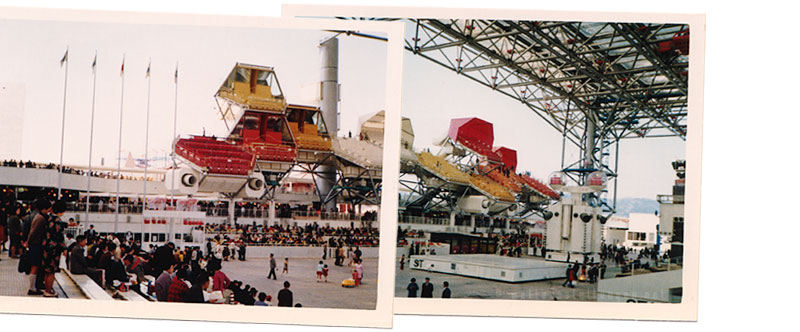 The Symbol Area with the Festival Plaza. A construction of the architect Kenzo Tange. This construction was at this time biggest builded of her kind and covered a plane of 292 by 108 meters and was based on six points of support with an height of 30 meters.
The object in the middle of the place with the two little domes is the below mentioned "roboter".
"Es entsprach dem wahren Menschenbild dieser Weltausstellung, zur Eröffnungsfeier aus dem Bauch eines wandelnden Riesenrobotors eine Kinderkapelle entspringen zu lassen.
...
Der "Turm der Sonne", ein Götze gigantischen Ausmaßes, überragt die Szenerie des weißgekachelten Festplatzes, über dem in 30 Meter Höhe auf bizarren Rohrkonstruktionen ein Stahlhimmel von 191 Meter Länge und 108 Meter Breite lagert. Nur in Massen kommt hier der Mensch noch zu Geltung."
Kitsch.Pop und Propaganda Expo 1970 – Man stellt nicht aus, man ist nur dabei ; Peter Brügge, Wochenzeitschrift Der Spiegel 1970, S.186 – 188.