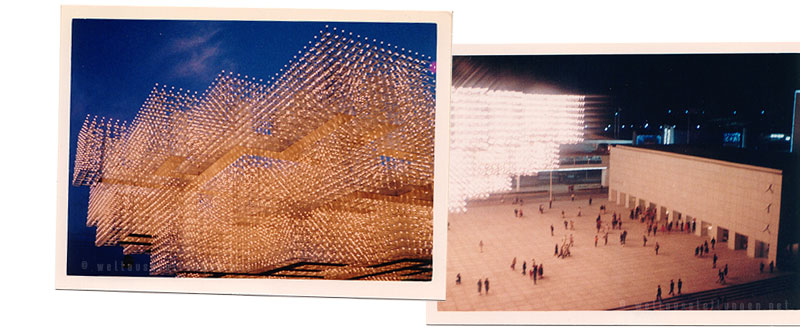 [1] "Tree of Light" in front of the Swiss Pavilion. His height was about 21 metres, his largest outer range 55 metres. The 32000 bulbs display their effect only in the evening. [2] Place in front of the Swiss Pavilion.
"The exhibition designer is today aware of the wellnigh insoluble problems presented by the flow of huge crowds through display pavilions – in Osaka there were half a million visitors per day – and of the jostling and queueing that result. Apart from the physical starin of such crushes, the single visitor is also prevented from planning and timing his calls and his viewing routes. With all thgis in his mind, the designers of the Swiss Pavilion decided that their area should be an Oasis of calm and relaxation where the visitor could recover from the thousands of of impressions and sensations he had been exposed to elsewhere. At the same time it had to over something that would linger agreeably in his memory."
Ernst Hiestand "The Swiss Pavilion" Graphis 150 (Special Issue Expo 70), S.321.